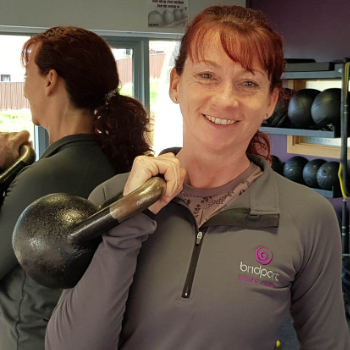 My main interest is resistance training, specifically Kettlebells and Kinesis. Kinesis brings core engagement & multi-functional movements, and is great for rehabilitation after injury or for specific weaknesses.
I'm 53 and have been in this industry for about 13 years, Having had 4 children, I have a good understanding of what women need to do to maintain bone and muscular strength and health and understand the challenges in relation to Menopause and Pelvic Floor maintenance.
I love training females and males alike to make positive changes in their lives and ultimately make them feel happy about themselves.
Qualifications
Personal Trainer (Level 3)
Mental Health (Level 4)
Obesity and Diabetes (Level 4)
GP Referral, Pilates (Level 3)
Yoga (Level 3) Including CPDs in Vinyasa, Restorative, Chair, Yoga Nidra
Master Kettlebells Instructor
Gym Instructor, Exercise to Music, Step, Pump
Group Cycling, Kinesis, SkillX, Parkinsons, COPD, Dementia
Exercise Strategy in relation to Menopause, Menopause Nutrition, Pelvic Balance