Archive result for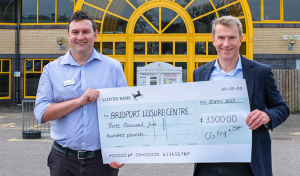 Having been established and working in the local area for nearly 100 years, C G Fry and
Son are keen to support and enhance the communities in which we operate.
Bridport Leisure Centre is a widely used community facility that was originally founded 1975.
Over time the centre has been developed and many improvements made, some of which
C G Fry & Son have been involved in delivering building services.
Today the centre provides a fully inclusive facility and a wide range of activities for the
people of West Dorset with the overall aim of enhancing the quality of life for the community.
Bridport Leisure Centre is run by Bridport & West Dorset Sports Trust Ltd as a strictly non-
profit making organisation. To help with the general maintenance repairs and improvements
the community business partners are key in contributing to the ongoing costs.
Philip Fry, Managing Director commented" We are pleased to become a community partner
with Bridport Leisure Centre. It is a superb opportunity to link local businesses to our local
community."
William Thrower, Centre Manager remarked, "Thank you to C G Fry and Son for their
generous donation to help us maintain our Leisure Centre. We would love to hear from any
other organisations who may be able to help us with future donations".
Archive result for
After 11 years of dedicated fundraising by Bridport Action Committee for an Indoor Pool (BACit), the swimming pool at Bridport Leisure Centre was finally opened in August 1994. That was nearly 30 years ago, and with this milestone fast approaching the pool is in need of essential maintenance.
Will Thrower the Centre Manager explains: "The pool is in constant use and is now in desperate need of re-grouting, this is a huge undertaking and a specialist task which will cost tens of thousands of pounds. We have decided to ask our valued members and residents of the town to join together to support its local community centre and help to keep the pool open."
The centre is holding a grand raffle with some fantastic prizes. The first prize being a 12-month Full Access Membership worth £540. Other prizes include 6 and 3 month memberships plus a children's activity/membership, family swim voucher, PT session, fitness class, adults and childs swim kits, squash racket, yoga mat and many more.
Will adds: "Tickets have been selling well, but we have a long way to go. This is a great opportunity for our existing members, as their payments will be frozen for the duration of their prize. We also appreciate the support we are receiving from non-members and members of the public who simply would like to support our centre."
Tickets are £1, or 6 for £5, and are available at Bridport Leisure Centre and Bridport Tourist Information office. The raffle will be drawn by the Mayor of Bridport, Cllr Ian Bark on Tuesday 11th October 2022.
To take part just pop in or call Bridport Leisure Centre on (01308) 427464.
Archive result for
In a bid to reduce our organisation's carbon footprint by upgrading our Pool Lighting to energy efficient LED units. Our project has been part funded by Low Carbon Dorset as part of the European Regional Development Fund and will save over 4.7 tonnes of CO2 each year.