C G Fry & Son becomes a community partner of Bridport Leisure Centre.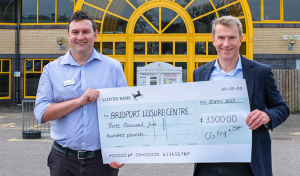 Having been established and working in the local area for nearly 100 years, C G Fry and
Son are keen to support and enhance the communities in which we operate.
Bridport Leisure Centre is a widely used community facility that was originally founded 1975.
Over time the centre has been developed and many improvements made, some of which
C G Fry & Son have been involved in delivering building services.
Today the centre provides a fully inclusive facility and a wide range of activities for the
people of West Dorset with the overall aim of enhancing the quality of life for the community.
Bridport Leisure Centre is run by Bridport & West Dorset Sports Trust Ltd as a strictly non-
profit making organisation. To help with the general maintenance repairs and improvements
the community business partners are key in contributing to the ongoing costs.
Philip Fry, Managing Director commented" We are pleased to become a community partner
with Bridport Leisure Centre. It is a superb opportunity to link local businesses to our local
community."
William Thrower, Centre Manager remarked, "Thank you to C G Fry and Son for their
generous donation to help us maintain our Leisure Centre. We would love to hear from any
other organisations who may be able to help us with future donations".